CMC:Release 6.0.0 Webinar
Join the experts!
Release 6.0.0 highlights live demo
Details at the bottom of the page.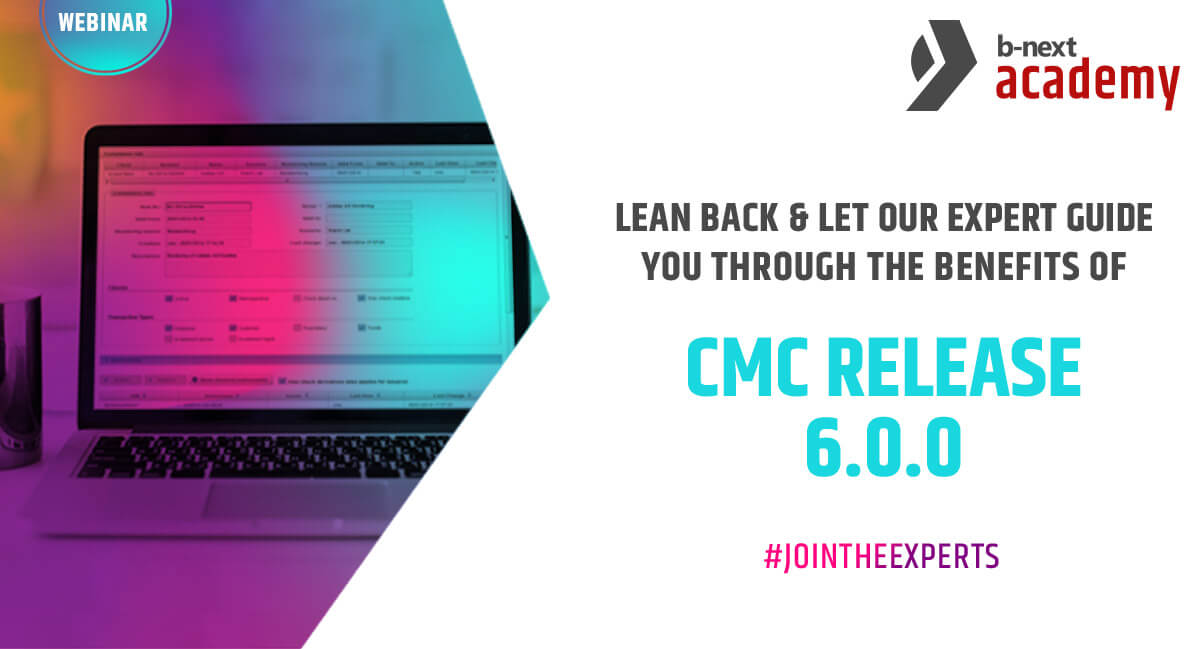 Save valuable time from reading release notes.


Enjoy all product updates in an exclusive one-on-one session with our expert. Take along other colleagues at no extra cost!

Discover improvements and new features in our latest and major release.

Changes and improvements in CMC release 6.0.0 will be explained in detail and demonstrated in a live demo.

Acquire quick & easy how to handle completely new features.

Gain valuable knowledge on how to boost your productivity using the latest CMC release.
Sign up for our webinar online
Date:
Individual booking available
Speaker:
Wojciech Filarski,
b-next Academy Lead
Participation fee per institution:

250,00 EUR
---
Terms and conditions:

Registration is binding and obligates payment of the participation fee.
Upon registration, participants will receive written acknowledgement and an invoice. An appointment with Mr. Filarski will be set immediately afterwards.
The webinar will be held via Cisco WebEx. No WebEx registration or additional payments required.
Topics covered in this webinar

ADVANCED FUNCTIONS FOR MAR-REPORT
Deal related insiders
Permanent insiders
FOUNDATION ENHANCEMENT
COI event interface enhancements
New extraction interface for list entries (watch list, restricted list)

OPEN DASHBOARD VIZUALIZATION
Implemented "Quick filtering" functionality
Increased amount of drill down levels from 1 to 9
Copy charts to current or any other available dashboard
Save charts into individual collection
Share charts for other tenants
PORTAL ENHANCEMENT
Annual declaration enhancement
Revised pre-clearing form
Revised transaction registration form
Extended fields deal management/deal registration
MARKET DOMINANCE ENHANCEMENT
New "Auction Phases" functionality

DATA MANAGEMENT
Pre-selection of product key during transaction registration (eSuite)

TRADING BEFORE NEWS/EVENT
Orders monitoring enhancement
MARKET ABUSE – PROCESSING ENGINE

FRONT RUNNING ENHANCEMENT
New check method "Trading before Asset Management" and more

ADDITIONAL EXCEL EXPORT FUNCTIONALITY
Permission for Excel export