Robust surveillance software solutions
b-next is a specialist global provider of proven multi-venue, multi-asset class software solutions for Capital Markets Surveillance and Compliance. We support an expanding international customer base of financial institutions, investment managers, energy traders, trading venue operators, and supervisory authorities, helping them to meet regulatory mandates, manage risk and drive trading efficiencies.
How it works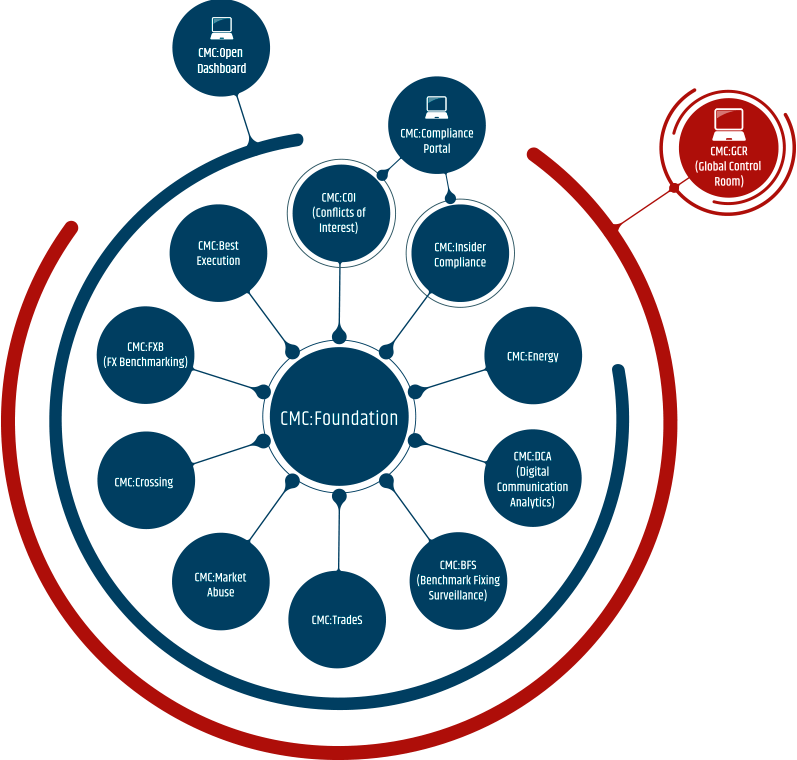 Foundation
How can you protect your reputation and unify all your surveillance functions?
"Glass, china and reputation, are easily crack'd, and never well mended," said Benjamin Franklin, underscoring the fragility of a hard-earned reputation. His observation is as relevant now as it was centuries ago. Today, market abuse damages and threatens hard won reputations in the financial markets. b-next CMC:Foundation can help you to protect your organisation and your reputation in capital markets. It forms a dynamic structure for all application modules within the CMC platform. It unifies all surveillance functions and includes a comprehensive range of features designed to embed high performance, flexibility and scalability within your surveillance system.
Open Dashboard
How can you visualize compliance risks intuitively?
Modern, intuitive visualizations make CMC:Open Dashboard a powerful, efficient, and easy-to-handle solution for all fields of capital markets compliance. The solution provides a fast, improved overview of all compliance-relevant risks and trading activities. Flexibility is also built-in via a configurator, which allows you to create bespoke scenario views, smart alerts, plus intuitive charts and tables with drill-down capabilities. This makes CMC:Open Dashboard powerful as well as configurable, yet simple and easy to use.
Compliance Portal
How can you embed a culture of compliance within your business?
Our Compliance Portal is a powerful tool for recording and accessing business and trading activities subject to regulatory compliance. Its intuitive dashboard allows users to view, log and approve activities quickly, simply and securely, making it easy for employees to collaborate seamlessly wherever they are. The Portal provides you with a comprehensive overview of compliance within your business units and a means of notifying and escalating incidences of non-compliance to b-next's Global Control Room (GCR).
Key Features of the CMC:Suite
Multi-tenant configuration
Standard interfaces
Multi-asset classes
Standard analysis scenarios
Integrated workflows
Integrated report repository
Integrated security functions
Multi-language
Tamper-proof audit trail
System backup environment
Data and result history archive