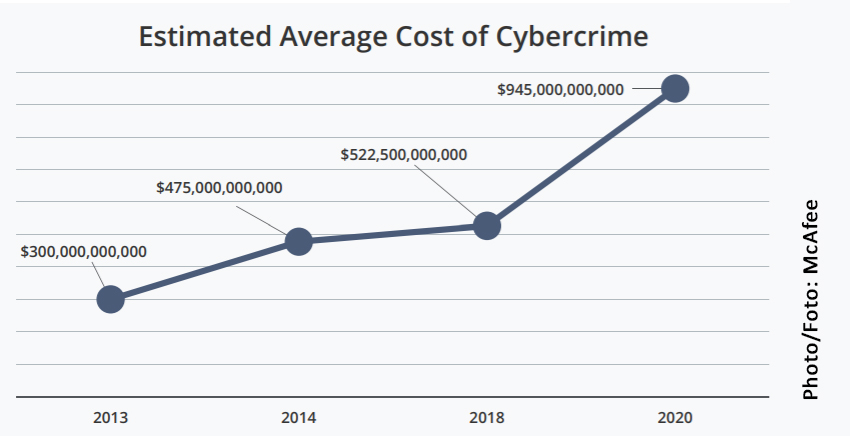 No matter what size your company is, no matter what industry, no matter what countries you operate in:
Your company is the target of cyber criminals. The compliance office in particular is often a worthwhile target for attack, especially in the financial industry. A wealth of internal and external data flows together here, e.g. in trade surveillance, but also in the monitoring of employee transactions or the initiation of M&A activities. Often this includes highly sensitive data from day-to-day business, customer data as well as employee data. In the event of a data leak or data manipulation, there is the threat of incalculable headline risk, in addition to high penalties that can also be imposed on individuals.
The compliance office must constantly rethink and reformulate its requirements, especially its risks with regard to security. Especially now, when due to the pandemic many meetings take place virtually, often even in the home office. Entire business processes are suddenly outside the previous IT landscape, and further worthwhile points of attack have opened up for criminals.
"On March 20, 2013, there was a cyberattack against South Korean banks and television stations. At the same time at around 14:00 (6:00 CET), massive network disruptions occurred. South Korea's Ministry of Defense in Seoul raised the cyber threat alert level to three on a five-point scale. Source: Wikipedia"
Another issue that will become increasingly important in the future is the further increase in automation of business processes. So-called robots are already playing a very large role in some areas of business today. Robo-advisers, chatbots, even copbots – the "cops" that detect fraudulent transactions – are already in use. Next, AI, or Artificial Intelligence, is being applied in more and more areas. Make sure you pay attention to whether supervised or unsupervised systems are planned or already in use here, in machine learning. This is a highly exciting question, especially for the lawyers among you. Think of Tesla and autonomous driving.
After that, however, no, already while these systems are being created, robots will also enter the market on the customer side. Google, Facebook, Amazon will provide customers with powerful AI systems. More and more, IT specialists will be the only ones who can still see through and optimize these processes.
And another bad news: we will see more and more criminal activities from the direction of IT. Your own, at suppliers, at customers, at partners. So you should also consider and develop IT forensics as a very serious, future-oriented compliance task area. The bank robbers of the past have continued their education, trained by the best experts available. You have to keep up with that.
"At the end of April 2021, the food retailer Tegut was troubled by a cyberattack, which caused empty shelves due to the failure of the merchandise management system."[21] As a result, company data was published on the Darknet by the hackers. Source: Wikipedia"
In this problem, communication is very difficult for the very reason that specialist departments with very different orientations have to exchange information, also in the respective specialist language. Lawyers, traders, IT experts, data protection officers, security officers, forensic experts, the management.
The number of potential points of attack is high, as is the number of forms of attack. How can the attacks be carried out? Where can the attackers penetrate which systems? What is the goal of the attacks – data theft, data manipulation, spying, denial of service, extortion? Since criminals are constantly working on refining their methods, compliance, just like all other areas of a company, requires regular review and further development of security measures. And the definition, revision of far-reaching decisions in IT policy. One of the most frequently asked questions, loosely based on Shakespeare: cloud or not cloud?
"At the beginning of June 2021, there were massive DDoS attacks on data centers operated by Fiducia & GAD IT, the IT service provider for the Volksbanken, Raiffeisenbanken, and other companies in the cooperative financial group in Germany. They led to temporary outages of online banking. Source: Wikipedia"
From my point of view, there are many, many arguments in favor of the cloud. Whereas it used to be inconceivable to store and process security-relevant, business-critical data such as that of the compliance office outside the company, the world has changed decisively here.
For cloud providers, security is the core of their business model. The costs here are correspondingly high, but so is the expertise. In principle, therefore, a cloud solution is the obvious choice. But here, too, the costs on the company side should not be neglected. It requires well-trained employees so that the next point of attack does not arise here. In your own system!
Don't be afraid to address these points openly and persistently in your organization – and to work through them in a structured manner.  The costs of doing so are always lower than the consequences of capital errors.
The author is co-founder and CEO of b-next holding AG. He is one of the pioneers and veterans of the RegTech industry with more than thirty years of experience in the sector.
_______________________________________________________________________________
Egal wie groß ihr Unternehmen ist, egal in welcher Industrie, egal in welchen Ländern Sie tätig sind:
Ihr Unternehmen ist das Ziel von Cyber-Kriminellen. Besonders das Compliance Office ist häufig, besonders in der Finanzindustrie, ein lohnendes Angriffsziel. Hier fließen, z.B. in der Trade Surveillance, aber auch bei der Überwachung von Mitarbeitergeschäften oder der Anbahnung von M&A-Aktivitäten, eine Fülle von internen und externen Daten zusammen. Oftmals auch hoch sensible Daten aus dem Tagesgeschäft, Kundendaten genauso wie Mitarbeiterdaten. Bei einem Datenleak oder der Datenmanipulation droht, neben hohen Strafen, die auch gegen Personen verhängt werden können, das unkalkulierbare Headline Risk.
Das Compliance Office muss seine Anforderungen, besonders seine Risiken bezüglich der Sicherheit immer wieder überdenken und neu formulieren. Gerade jetzt, wo auf Grund der Pandemie viele Meetings virtuell, oft sogar im Homeoffice, stattfinden. Ganze Geschäftsprozesse liegen plötzlich außerhalb der bisherigen IT-Landschaft, weitere lohnende Angriffspunkte haben sich für Kriminelle geöffnet.
"Am 20. März 2013 kam es zu einer Cyberattacke gegen südkoreanische Banken und Fernsehsender. Zur gleichen Zeit um etwa 14:00 Uhr (6:00 Uhr MEZ) kam es zu massiven Netzwerkstörungen. Das Verteidigungsministerium Südkoreas in Seoul erhöhte die Alarmstufe für Cyber-Bedrohungen auf den Wert drei einer fünfstufigen Skala. Quelle: Wikipedia"
Ein weiterer, in Zukunft immer wichtigerer Punkt, ist die weiter zunehmende Automatisierung von Geschäftsprozessen. Die sogenannten Robots haben in einigen Geschäftsbereichen heute schon einen sehr großen Anteil an der Abwicklung von Geschäften. Robo-adviser, chatbots, auch copbots – also die "Polizisten", die betrügerische Transaktionen aufdecken, sind bereits im Einsatz. Als nächstes kommt die AI, die Artificial Intelligence, in immer mehr Bereichen zur Anwendung. Richten Sie Ihr Augenmerk unbedingt darauf ob hier, beim Machine Learning, supervised oder unsupervised Systeme geplant oder bereits im Einsatz sind. Eine gerade für die Juristen unter Ihnen hochspannende Fragestellung. Denken Sie an Tesla und das autonome Fahren.
Danach wird aber, nein, schon während diese Systeme entstehen, werden auch auf Kundenseite Robots den Markt betreten. Google, Facebook, Amazon werden die Kunden mit mächtigen AI Systemen versorgen. Mehr und mehr werden IT-Spezialisten die einzigen sein, die diese Prozesse noch durchblicken und optimieren können.
Und noch eine schlechte Nachricht: wir werden immer mehr kriminelle Aktivitäten aus Richtung der IT erleben. Der eigenen, der bei Lieferanten, bei Kunden, bei Partnern. Sie sollten also auch die IT-Forensik als sehr ernstes, zukunftsträchtiges Aufgabengebiet der Compliance betrachten und entwickeln. Die Bankräuber von früher haben sich fortgebildet. Nicht an der VHS, sondern bei wirklichen Könnern. Da müssen Sie mithalten.
"Ende April 2021 machte dem Lebensmitteleinzelhandelsunternehmen Tegut eine Cyberattacke zu schaffen, welche durch den Ausfall des Warenwirtschaftssystems für leere Regale sorgte.[21] Daraufhin wurden von den Hackern Unternehmensdaten im Darknet veröffentlicht. Quelle: Wikipedia"
Bei dieser Problemstellung ist die Kommunikation schon aus dem Grunde sehr diffizil, da sich Fachbereiche mit sehr unterschiedlichen Ausrichtungen, auch in der jeweiligen Fachsprache, austauschen müssen. Juristen, Trader, IT-Fachleute, Datenschützer, Sicherheitsbeauftragte, Forensiker, die Geschäftsleitung.
Die Zahl der potentiellen Angriffspunkte ist hoch, ebenso die Zahl der Angriffsformen. Wie können die Angriffe durchgeführt werden? Wo können die Angreifer in welche Systeme eindringen? Was ist das Ziel der Angriffe – Datendiebstahl, Datenmanipulation, Ausspähung, Denial-of Service, Erpressung? Da die Kriminellen permanent an der Verfeinerung ihrer Methoden arbeiten, bedarf es auch in der Compliance, genauso wie in allen anderen Bereichen eines Unternehmens, der regelmäßigen Überprüfung und Weiterentwicklung der Sicherheitsmaßnahmen. Und der Festlegung, Überarbeitung weitreichender Entscheidungen in der IT-Policy. Eine der am häufigsten gestellten Fragen, frei nach Shakespeare:  Cloud oder nicht Cloud?
"Anfang Juni 2021 erfolgten massive DDoS-Angriffe auf Rechenzentren der Fiducia & GAD IT, den IT-Dienstleister der Volksbanken, Raiffeisenbanken und weiterer Unternehmen der genossenschaftlichen Finanzgruppe in Deutschland. Sie führten zu zeitweisen Ausfällen des Onlinebankings. Quelle: Wikipedia"
Aus meiner Sicht spricht sehr, sehr viel für die Cloud. War es früher unvorstellbar sicherheitsrelevante, geschäftskritische Daten wie die des Compliance Office außerhalb des Unternehmens zu speichern, zu verarbeiten, hat sich die Welt hier entscheidend verändert. Für die Cloud-Anbieter ist Sicherheit der Kern ihres Geschäftsmodells. Entsprechend hoch sind hier die Aufwendungen, aber auch die Expertise. Grundsätzlich bietet sich also eine Cloud-Lösung an. Aber auch hier sind die Kosten auf Unternehmensseite nicht zu vernachlässigen. Es erfordert gut ausgebildete Mitarbeiter, damit nicht hier schon der nächste Angriffspunkt entsteht. In Ihrem eigenen System!
Scheuen Sie sich nicht, diese Punkte offen und hartnäckig in ihrer Organisation zu adressieren – und strukturiert abzuarbeiten.  Die Kosten dafür sind allemal geringer als die Folgen aus kapitalen Fehlern.
Der Autor ist Mitgründer und CEO der b-next holding AG. Er zählt zu den Pionieren und Veteranen der RegTech Industrie mit mehr als dreißig Jahren Erfahrung in der Branche.